99% PERSPIRATION
I came over to Miami for Art Basel in 2017. I was sweatin it out with the Mobile Incubator all over Florida that winter. One day I was parked at the West Kendall Zine Fest, chillin with independent zinesters when I bumped into Lolo Reskin of Sweat Records. Sweat Records… so appropo. I was sweating so bad that day and everyday. There wasn't enough cold brew in the world to stabilize my temperature. But I've grown to love the sweat since I first came here in December .
Lolo has been on the scene here for life. She's a champ for emerging musicians in Miami and we hit it off. A month later, I was back in her hood and we sat down to hear her story. She started by promoting shows in Miami and then raised about $50k to start her own record store as a anchor point, then promoting artists through PBS' Art Loft, and now she curates music into building around town. Yes, that's a real service and I would love to devote a whole podcast just to that. But what Lolo and I are going to talk about is Miami as a place through the lens of music scene.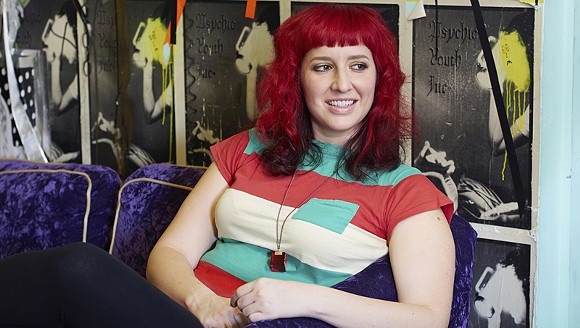 Lolo makes a point that Miami is not Miami Beach, that the landmass of Miami Beach is a fraction of what happens in Miami. Coming to Miami was a life changer for me. I got to comb this part of the world for a few months now and it really doesn't belong to the US. It's not like the rest of the US. In Lolo's words it's geographically disadvantaged on the tip of the peninsula. It can't belong to the caribbean or the US. Lolo also talks about Miami time, where you just sort of roll into your shifts and obligations.
You'll hear in this interview that she credits her rise to being punctual, being professional, being the most organized in the room. And I have to admit that I fell into Miami time too. I was actually late for my interview with her. Lolo, I'm sorry. Totally my bad but a documentary crew wanted an interview with me which made me late for my interview with you. Lolo I can feel you raising your eyebrows.
You've heard about "sweat equity" right? Too talented to be just "the girl at the record store", Lolo applied an opportunistic mindset and professional demeanor to became an unconventional champion for the Miami music scene. Not only does she manage her own record store with her best friend, she is also a successful DJ, promoter, event planner, music programmer, television host, and more! In a city known for glitz and glamour, Lolo's success comes from practicality and straight forwardness.