ATHLETE 2 ARTIST
I had been on the road for a few months doing freelance audio/video work and activism across the country. As my journey continued, I found it necessary to push further and further into the realm of things that were new experiences to me. Context is really important in my life, especially in relation to "happiness" and "success" which is what we're all concerned with most of the time. But I've also noticed that pain, struggle, and grief are equally communal emotions to learn from across a broader spectrum in many different circumstances than mine. I have experienced both incredible trauma and pain and unimaginable joy and excitement, and I was eager to find out more about both of these concepts and how art intersects these issues for others. But getting out of context is scary, and it took some easing into like being in the shallow end of a pool first.
In the spirit of this, I decided to dive into the deep end. I left the smallest airport I have ever been in (5 tiny terminals and a coffee counter) and in the smallest plane I've ever been on for a state I had never been to. I knew no one who lived in that state, didn't have lodging at a hotel or with anyone I'd met before, going to the largest art event I had ever been to, and planned to stay for awhile.
When I landed in Grand Rapids, the airport was bigger than the one I left, but still not much more than one building really. It had a beautiful glass covered area to wait for my ride though, and a grand viewing area of that lightning bolt coming around the corner. To see the lights, the chrome, all of that coming at me, and the beaming face of Lucas as neared the curb are something that I will always have burned into my memory. Talk about genuine happiness.
Our first stop was the Convention Center to check on the Mobile Incubator, and it turns out that night was the opening reception for all the artists and everyone would soon be walking right past us into the center. I had a small microphone on my phone and seized the moment to ask people while they were coming in why they chose to come to art prize and why they support art. Over the next few days, we would ask more intense questions and form our Question of the Day series about Art. But in this moment, I had just landed, and I was definitely in the deep end. Hearing answers from so many people there to experience art, not just artists, was a moment I couldn't have made up.
Later that night we would meet some artists at a cocktail event and start conversations I'd been thinking about for months. The friendliness of this city and the Art Prize experience won me over before I laid my head down that night.
The incubator was just outside a set of windows where a large anatomical sculpture made of tires towered over trash and debris. It was commanding, uplifting, and looked over me during those first few interviews. I learned that the artist was a former relief pitcher-turned-artist, and would get a chance to speak with him the very next day.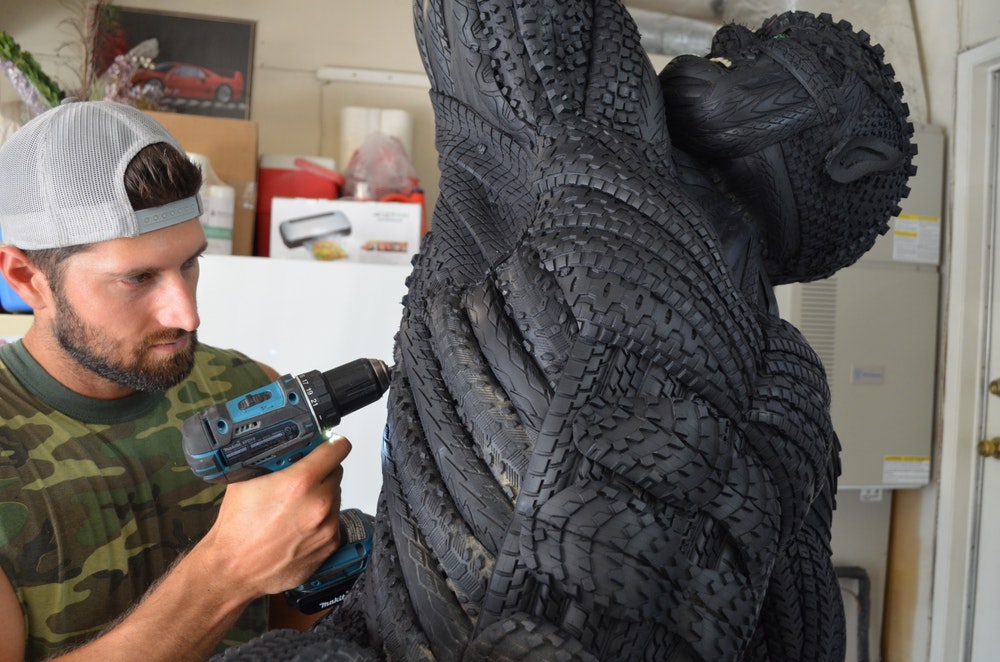 Blake is a retired baseball player for the Blue Jays who's turned into a full hustle artist for Goodyear, Lululemon, and arenas across the US. I was intrigued by his ability to adapt with the world. And I knew I had to sit and chat with him. Blake has empathy for recycling materials and changing something into a more purposeful creation. He has a surprisingly relaxed attitude to adversity, and a willingness to start something new.
Every season, Blake never knew whether he'd be cut, injured, or just not make the team for reasons outside his control, but regardless he showed up for practice, and now to his studio. Just like he showed up for ArtPrize.