JIM ESCROW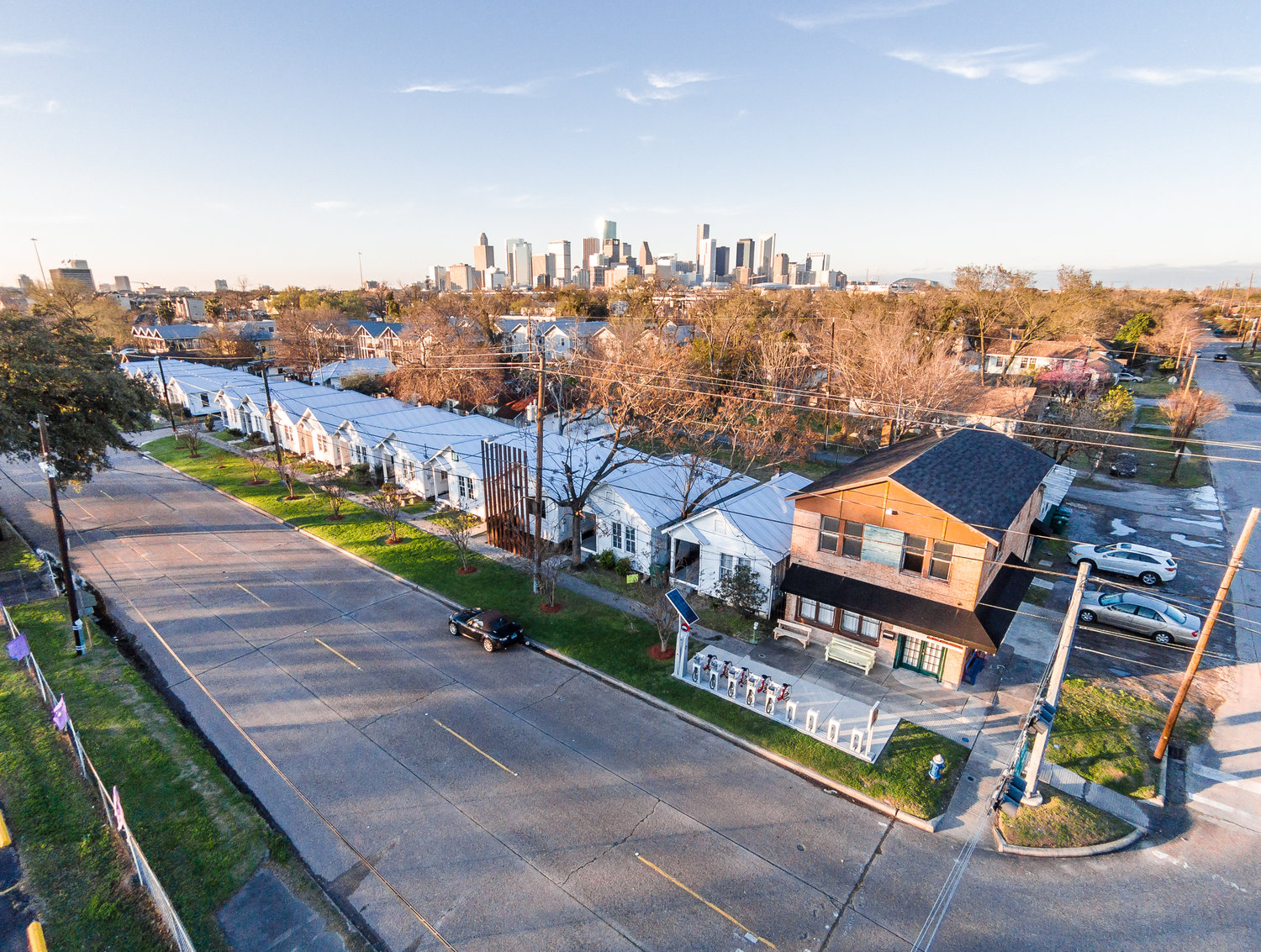 We were riding fast from the Southwest to New England on our inaugural voyage with the Mobile Incubator. We could have gone straight from San Antonio to Little Rock that day, but there was one spot on our road trip that was crucial: Project Row Houses in Houston TX. Known as "Hustletown", Houston is the 4th largest city in the US but 145th in density. So Houston's got roads (potholes too) and there's not much public transit here since they ripped out much of the rails a long time ago. Another serious difference here is that Houston doesn't have any zoning or land use codes. This means you're driving thru a virtual Monopoly board where single occupancy homes on Park Place live in the shadow of hotels on Baltic Ave.
I turned left off of Emancipation Avenue onto Holman Street to see what Project Row Houses has done with the bizarre policies and circumstances of Hustletown. Project Row Houses began in Houston's Third Ward in 1993 when seven visionary African-American artists imagined a new use of the derelict shotgun houses that comprised the block and a half. In similar blocks of blight I've seen across the US, most of the homes are clearly destined to crumble. As my grandma Lonita said "No one's there to plug a small leak, and it becomes a big hole fast."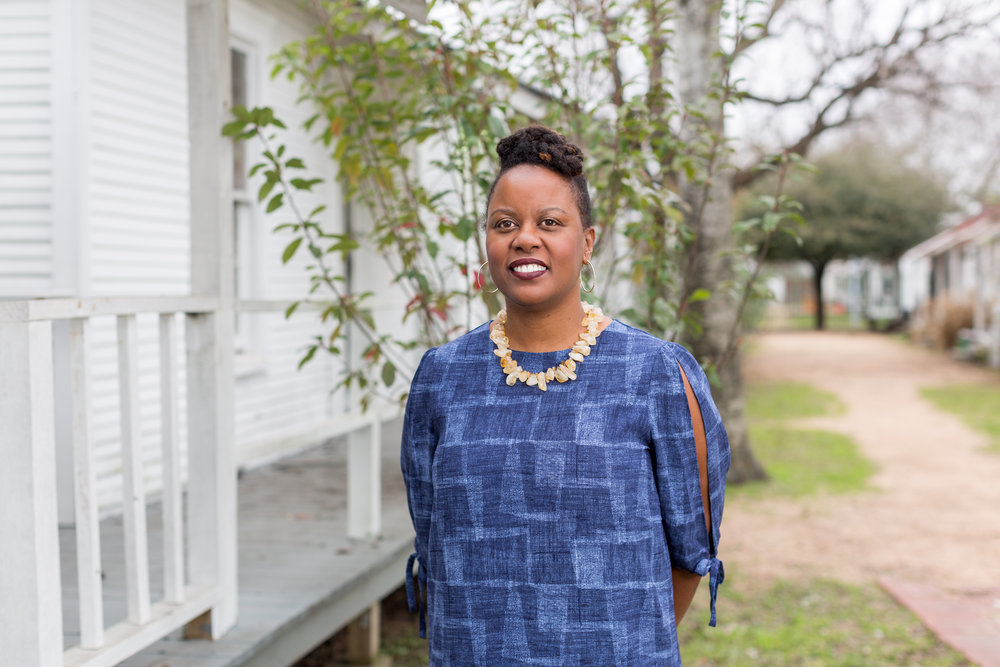 We parked the Mobile Incubator along Holman Street and Executive Director Eureka Gilkey met us inside the humble office, the only two story building on the block. Eureka took us on a tour of the row houses originally built in the 1930s, where artists have been continually renewing the former homes into installations, projections, performances and residencies. These reactivations were like a down payment on the neighborhood, using art as escrow, a commitment to change.
I lived in an 800 sq ft shotgun house myself for a few years but this cramped 500 sq ft floorplan was where an entire family lived during the Jim Crow era of Houston, and as Eureka says "that we walk on the grounds of freed slaves is not lost on us". Today as art installations or homes for young single mothers, they're repurposed reminders of how a place evolves thru the power of community and art.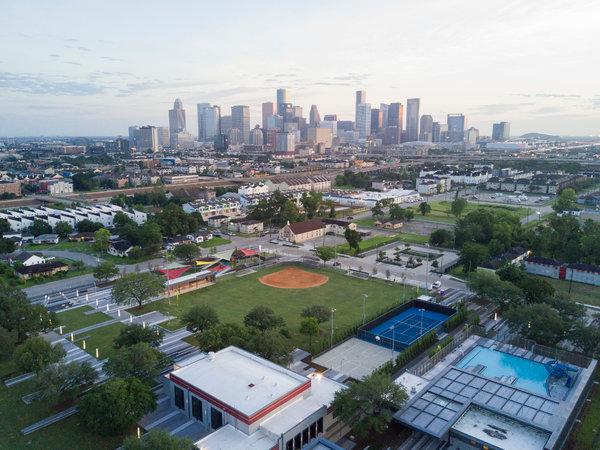 In the biggest US city with no zoning ordinances, the irony is that this whole neighborhood was once redlined. In a city that has stood by its lack of boundaries of commercial or residential use, it long enforced boundaries of white and black. Even the nearby "Emancipation Park" remained racially segregated until 1940. This park was originally purchased in 1872 by freed slaves who pooled $1,000 to purchase the land. When we visited in 2016, a looming $33.6m was being spent to upgrade the park. But would those changes reward the children of the original purchase? Or bring in new people attracted by the city's investment and who may or may not want to change the story here? With no zoning laws, would luxury high rises be built next to the churches?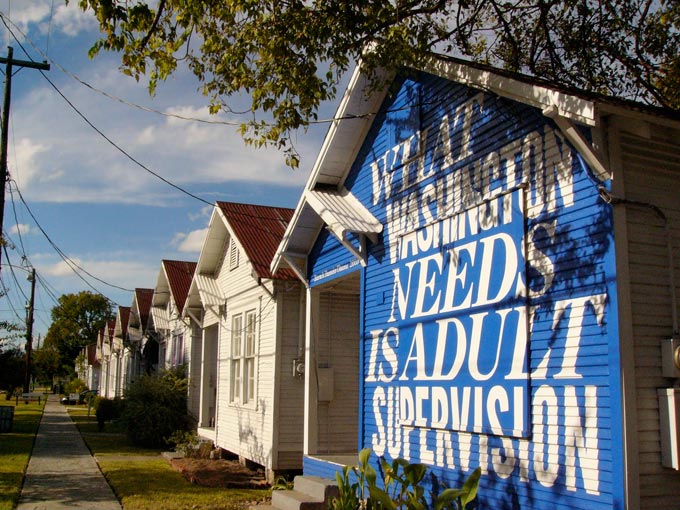 The future of any neighborhood is influenced not just by market forces but also the ventures and tenacity of those who inhabit it. Eureka explained that much of the neighborhood surrounding Project Row Houses is owned by mission driven non profits or charitable orgs, a saving grace that many gentrified neighborhoods in the US simply did not have. Today the "project" includes 40 properties within a community development corporation, and a small business incubator as well. That original $1,000 investment 150 years ago has rippled forward and inspired new investments by and for those with few means today.
These provocative "social sculptures" along Holman Ave challenge the explicit and implicit borders in Houston, and are a catalyst for artists to impact economic progress for their community.